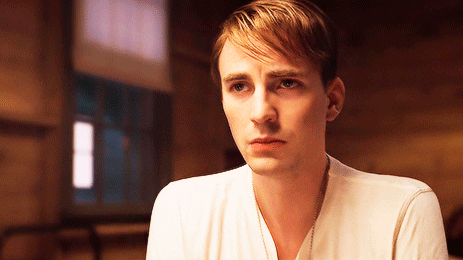 DISCLAIMER
: this is taking place during the event, not at the very start
Shivering and burning up at the exact same time, Steve stared straight ahead, his body betraying him once again. He'd remembered this feeling, remembered how helpless he always felt, even if he said he could handle things on his own. In so many ways, he just wanted to go home, back to New York, back to a place that wasn't completely foreign to him, especially at a time like this. He felt the same, yet completely different, and he hated it. But he could handle it. He didn't need help. Or, really, did he? Ever since he'd woken up and noticed how different things were. He wasn't in the muscular and strong body he'd become used to. He was small, maybe a hundred pounds soaking wet, and he felt like he'd been hit by a truck. His chest ached, his head hurt, and he felt exhausted. This wasn't good and from the moment he tried to stand and lost his balance, he knew that the years of being cured from all ailments had done nothing but make it worse when they came back at full force. Even though it had only been a few days, Steve could feel himself getting weaker and weaker, but he never said a word. Bucky and Sam didn't need to worry about him, he'd be able to handle this own his own, right?
Steve looked at the clock, his eyes unfocused and unclear. Color was missing from the world yet again, something he'd taken for granted along with everything else. Things were now a dull mixture of grays, whites, and blacks, things playing out like the movie his life used to be, like it had been back in Brooklyn. It was almost one in the morning and Steve kept his arms curled around his body, trying his best to keep himself from shivering out of his skin or making too much noise. He knew a fever was setting in, it was like an unwelcome friend coming back to pay a visit, and as he tried to keep himself as warm as possible, the blankets did absolutely nothing to soothe his small frame. He fucking hated this. He closed his eyes, feeling the sweat start to form on his forehead, and that was when the coughing started. Once it started, he always had a hard time getting it to stop. Over and over again, he tried desperately to be as quiet as possible, but with each cough and sharp intake of breath, a wheeze accompanied it and he felt terrible. Absolutely terrible.
Steve had tried to sit up, so that there would be a direct line to his lungs and, maybe, take some of the pressure off them, but it didn't work. As soon as he was sitting upright, he was coughing and wheezing yet again, sounding like a child who'd been struck with a terrible case of whooping cough. He curled his arms around his legs as he brought them to his chest, an act he hadn't been able to do since the serum, and closed his eyes, sweating and shivering all at once. He knew he must look like a complete and utter mess, that was exactly how he was feeling, but he could handle it. He'd be fine. He'd be back to his normal self in no time, wouldn't he? He hoped so because, which each cough, he felt more and more lightheaded, a feeling he couldn't shake. This whole thing was a complete disaster and Russia's cold climate didn't help things. Winters always took their toll on Steve when he was younger and things had reverted back to that. In so many ways, he felt like he might not make it through the night, like his body was slowly deteriorating and destroying itself and there was absolutely nothing Steve could do to stop it.
James Barnes